I am glad that I was invited last Saturday to attend a media launching of Larry and Mau Diner at Two E-Com Mall of Asia.  I was inspired by the rags to riches story of Mr. Larry Cortez so I was excited to meet him in person (will post more about it on my other blog).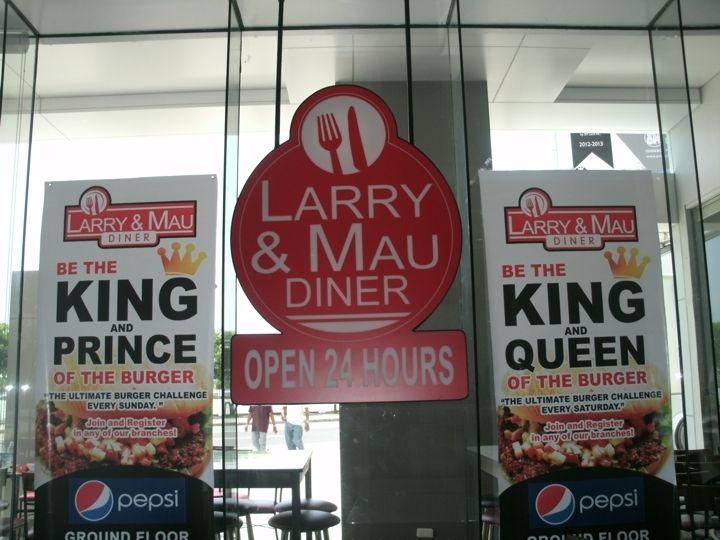 Sir Larry and Chef Mau now own 6 brands of restaurants namely:
Uncle Cheffy
Old Vine Grille
Chef's Quarter Restaurant and wine bar
Kuse Traditional Filipino Cuisine
Beurre Blanc French-Meditteranean Restaurant
and now Larry and Mau Diner
Larry and Mau diner offer great foods at a price that everyone can afford.  Here are some of the food we tasted at the event.
Nachos Salad with Chili Con Carne (Php95).  To be honest, I don't  like salads that much but since it has nachos, I enjoyed it.
Fish Paillard (Php 139). The word "Paillard" is a french word which means "flattened meat".  The fish that they have used was cream dory and it was served with carrot and corn and mustard sauce.  I like the way it was prepared, the fish meat is soft and tender.
This is the Pork Paillard (Php 139).  Just like the Fish Paillard, it also comes with corn and carrot and pinoy sauce.  The Pinoy Sauce was so tasty on its own, that you can eat it with rice alone.
This is my first time to tried a Crispy Fried Pork Ribs.  It is perfect for those who want to try something crispy other than chicken.
Before I went to this event I took a peek on their menu first. I got interested with their Spicy Pork and Eggplant Torta (Php95).  I was not disappointed when I tried it, I liked how the taste blend. The egg is cooked perfectly, not too soft nor hard.  I will definetely go back at Larry and Mau Diner for this just to try it again.
Tuna and Cheese Melt Torta (Php 95).  For those who are health conscious and prefer fish this one is for you.  The salsa blends well with the torta so before you take a bite, be sure to mix it.
This one is the yummiest of them all- Smoked Boiled Bacon Taste of Ireland Php169.  I can't believe that you can have a smoked bacon that is quite large for a price of only Php 169.  It is good for sharing but because of its taste I know that one person can finish it all.  The meat was so tender and oh so juicy!
If you want to try something different that you cannot get at any fast food outlet with a very affordable price then this menu is a MUST TRY!.
For burger lovers out there, this August, they will be launching the Ultimate Burger Challenge which stars their One Pound Super Burger (Php 395).  It is so huge and heavy, and I will bow to anyone who can eat this alone.
A pair can register and join for free for a single minimum purchase worth P1,500 from Uncle Cheffy or Old Vine Grille or Chefs' Quarter or Kuse or Beurre Blanc inclusive of any Pepsi Cola product, or a single minimum purchase worth P500 from Larry & Mau inclusive of any Pepsi Cola product.
Saturdays are open to aspiring Kings and Queens (male-female couples 18 years old and above) while Sundays are reserved for Kings and Princes (father and son tandems, father must be 25 years old and above, child must be between 8 and 10 years old). Competitions are scheduled at 10am. This will run every weekend for the entire month. An assortment of gift checks and discount privileges at all their establishments await the winning pairs.
For more details, inquire and register at any of their restaurants.
Larry & Mau Diner opened at Two E-com Center, Mall of Asia Complex last February 2012. Another branch (a franchise), recently opened at Eton Centris Walk, Quezon City. Tel. no. 869-7939 / Fax no. 869-0345. You may also email them at larrynmau@yahoo.com.