Yesterday, Jollibee gave away 100 vouchers for the Amazing Aloha Burger at selected stores.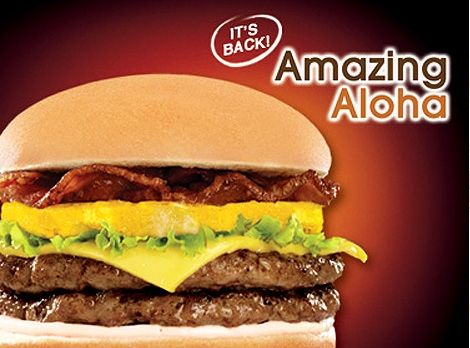 I was glad that my sister-in-law and her family had the chance to experience and enjoy this amazing giveaway.
I was craving for this limited edition burger since yesterday, but I was unable to buy one because the store that I went to was already out of stocks of cheese and I don't like to have it with incomplete ingredients so to my disappointment, I decided to let go and have it some other day.
So, today, since I am still craving for it and I know I will not be comfortable if I will not satisfy this craving I went again to the nearest Jollibee store at our place to buy one.
and finally I was able to get my hands and mouth on it
okay don't judge it from the photo, I am not very good at taking pictures of foods especially if I can hear my stomach already rumbling.  But guess what, this is the first time I have closed my eyes while chewing on any burger that I had before.
I liked it so much… the pineapple gave it a unique sweet and sourly taste that compliments the cheese and the juicy patties.  Yummy!!!
I remember the time it was available at Jollibee, I think I was only in high school then.  I did not had the chance to order and taste it before because my wallet did not allowed me to do so, but now I will not let this opportunity pass by again hahaha.
If you are curious on how the Amazing Aloha burger tastes like, visit the nearest Jollibee store in your area and order now!